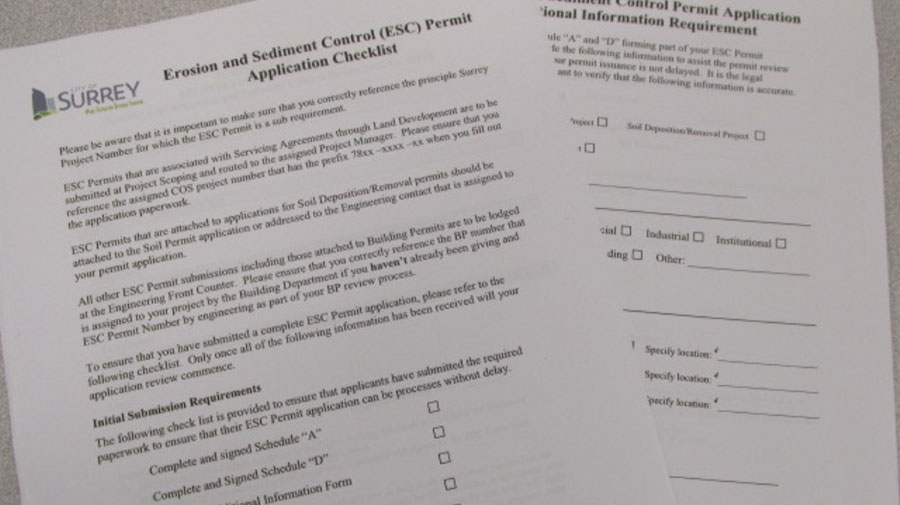 Erosion and Sediment Control (ESC) Exemption
When it comes to sites that are disturbing 2000 m² of area or less in the City of Surrey or in the Township of Langley, we can most often apply for an erosion and sediment control (ESC) exemption.
Even though you still have to file some paperwork and still install your ESC Best Management Practices such as silt fencing, gravel access pad, etc, there are advantages to obtaining an exemption: 1) no need for a full set of ESC Plans; 2) no ESC monitoring required for the duration of your construction; 3) fewer fees to pay; 4) no ESC deposit is required; and 5) save time, by not needing a full ESC approval.
At times, even if your construction site is larger than 2000 m² but your disturbed area footprint is less than 2000 m², you may still qualify for the ESC exemption. Properties can already be encombered with no-build areas such as protected riparian areas, or rights-of-way crossing the property, tree protection zones, planning setbacks, etc. In these cases, you may also qualify for an ESC exemption which will help reduce costs related to erosion and sediment control.
All-Terrain Consulting Ltd. can definitely let you know if you can qualify for an ESC exemption or not in either the City of Surrey or in the Township of Langley, just give us a call and we can look up your property on the municipal mapping systems to determine whether it will be viable.
By filling out the necessary application and drafting a drawing outlining the disturbed area on your site plans, we can get you the approval for an ESC exemption and reduce the time and costs usually associated with this piece of your building permit.
Call us at (778) 230-4174 to inquire.